Welcome to We Want to Know Q&A Wednesday
Hosted by Mamarazzi and A

licia aka

Queso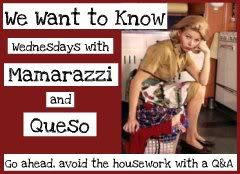 This week's questions are from Queso
1. What is your favorite holiday?
I've always loved Christmas. Even though I work retail and every other holiday, I get Christmas day off! It is nice. I love the chance to be with family and eat yummy food. I, of course, enjoy receiving presents but I really enjoy giving them too!
2. Do you have any fun holiday traditions? What are they?
When I was young, my parents and I would go for a drive on Christmas Eve and look at all the Christmas lights. I really enjoyed it. J and I don't really have traditions that we've set it place. We still spend time with our families and I really enjoy it!
3. When do you start Christmas shopping?
I'd like to say that I am very organized and start shopping in February but that is a complete lie. I usually start around the end of November and scramble all the way until the week before Christmas. I at least finish a week before Christmas because I REFUSE to go shopping the week before. It is too crazy and, honestly, the crowds scare me to death.
4. What is your favorite holiday food?
I have to pick JUST one?!?! My mom makes a divine fudge that I really enjoy. She has pictures of me licking the pan on Christmas morning .... from a couple of years ago. :-) Yes, I'm a big kid at heart. My mother-in-law makes a mean twice baked potato that I really look forward too. My aunt, Jenny, makes an awesome potato salad that I love too. Once we were having a morning brunch for a celebration of the birth of P and I totally requested that she bring her potato salad. It didn't really fit into the scheme of brunch but I didn't care. It is THAT good!
5. Share a favorite childhood holiday memory.
I'm going to switch gears and talk about Halloween. My parents and I used to grow a large garden. One year, my parents and I decided to see how big of a pumpkin we could grow. Once there were about four pumpkin blooms, we removed any others that formed. That way all the water and nutrients went to those four pumpkins. Once fully grown they weighed 70-90 pounds! We entered them into the Eastern Idaho State Fair and won some ribbons! It was fun! When we brought them home from the fair we decorated them. Instead of carving them, we painted cool pictures on them. We lived on a very busy street and our pumpkins would always get smashed by
idiotic, stupid thugs
kids. We felt fairly safe putting the large pumpkins out because they were too heavy. Those awesome pumpkins survived their time on the porch! It was fun.
6. Have you ever actually tried fruitcake?
Um, I think I may have taken a nibble of some but not really. I was and still kind of am a picky eater. Just looking at bread with chunks of dried fruit made me squirm.