Welcome to We Want to Know Wednesdays Q&A!
Hosted by
Mamarazzi, Queso and Crazymama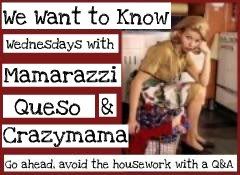 Here are this week's questions, courtesy of Queso:
1. What is the worst job you have ever had?
I've only had 3 jobs in my lifetime. I worked for my dad for 11 years. The other two have been retail. I'd say the retail sucks. I'd really like to get out of it. I really enjoy getting to interact with people but working on holidays bites. (Hence the absence from my blog in the past w

eek and a half.)
2. Have you ever been fired?
Nope. I've been laid-off though. That stinks.
3. What would your dream job be?
Figure out how to be a stay-at-home mom, bring in some income, and still remain a sane, calm mother. Yeah, I don't know if that is possible. I do enjoy the small break from the children when I go to work. I like to think it keeps me nicer.
4. What did you want to be when you "grew up"?




My first aspirations, as a very young child, was to be a waitress. I went to breakfast with my Grandma and Great Grandma every Saturday. We always had the nicest waitresses. That was my first big dream. :-) I wanted to be a "doctor who delivered babies." As soon as I found out how much school that entailed, I quickly kicked that idea to the curb. I had a short-lived dream of becoming a track-and-field star. Um, yeah. I'm about as fast as a turtle and have asthma. My track career came to a

screeching

halt after junior high. All through high school and entering into college, I thought I'd go into television production. I actually started the program in college but realized that I wanted a family and family life more. So, I honestly don't know what I want to be when I grow up.




5. How old were you when you got your first job?

I got my first job with my dad when I was 16. He was a real estate appraiser and I became his assistant. I input data in the computer, researched information at the court house, compiled the reports, delivered the reports, took pictures, ran errands, etc. I was a busy girl. I'm glad he hired me though. It was a great learning opportunity and helped me grow closer to my dad! :-)

Hope you all have a fantabulous week!