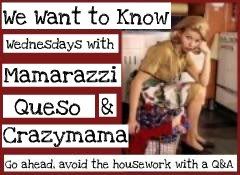 Here are this week's questions:
1. What is your favorite cookie to eat?
That is tough. I actually have two. My mom and I make a really good No-Bake Cookie. I really love those. My mom makes a really good Oatmeal Chocolate Chip Cookie. Sometimes she puts banana's in them too. They are yummy!
2. Have you ever done a cookie exchange?
I went to one last December. It was pretty fun. It ended up just being a Girl's Night Out and munching on goodies. That was fun!
3. How are you doing on your holiday shopping?
Um .... haven't even started. :-/ Actually, that isn't true. We got our family pictures taken and ordered so I guess I've done a little bit.
4. What is your holiday shopping style? (A little at a time, or power shopper? Early in the season or last

minute? Online or part of the crowd?)
I'm a little bit of everything. I start to freak out in the beginning of December and start to do my shopping. I do some online and some in the stores. I've never shopped on a Black Friday or anything like that. I don't do crowds because I get scared and claustrophobic.
And a random seasonal 3 part question...

5. Light displays...do you put them on your house? What is your style and your fave kind to see?
We're lazy and don't put lights up on the house. I am proud to say that I got my Christmas decor and tree up on December 1st. That is a record for me. I've never gotten it up that early!
As for my "type" of lights that I like? I don't know. I posted a video on Facebook of a house down our street. They are awesome! My boys love to drive by and look at their lights. Click

HERE

to go to my Facebook page and watch it! Might as well 'Like' my page while you're at it! ;-)