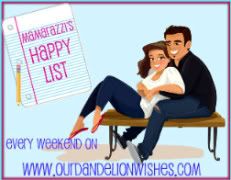 I'M HAPPY that we made it through an entire hour sacrament meeting without having to take E out! It was fabulous! :-) I wonder what is wrong with him ....
I'M HAPPY that I was able to attend a Celebration of Life (funeral) for a family friend. It was nice to laugh and share good memories. He suffered a long battle with a rare form of cancer. I am HAPPY that he isn't suffering anymore.
I'M HAPPY that I have such a sweet family. My boys are so stinkin' cute that sometimes I can't even breath. Well, not really but you know what I mean. Sometimes just the thought of how much I love my family can take my breath away.
I'M HAPPY that I got to go on a date with J on Friday. We were going to go on a bike ride but our tires were flat. :-( LAME! We decided to go to dinner instead. We also did a little thrift shopping and found me a couple of nice blouses for church. I was getting tired of the same two shirts.
I'M HAPPY to have had a weekend with my family without having to work. It was nice.
I hope you all have an amazing weekend. Love you all!