Check it out!!! I got me a bloggy makeover!! Sarajo at
Outta This World
is starting a new blog design business! She needed a little practice and I was more than happy to oblige and help her out. Here is a link to her new blog,
Outta This World Designs
. Nothing is there yet but as soon as she is up and running, I will let you know!
Check out my SA-WEET new button!! I LURVE IT! I hope you'll grab one and put it on your blog! (For any blog newbies, copy the text in the box. Go to Design and to Page Elements. Add an HTML Gadget and paste the text. Easy peesy!)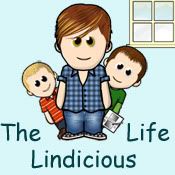 Don't forget to scroll down a little further and find the Connect section on the left column. I'm starting a new Lindicious Life Facebook page. I hope you'll jump on and "Like" me! I'm also on Twitter so if you need all my most personal, status updates ... follow me! :-) Can you tell from the plethora of exclamation points that I'm a tad bit excited?!