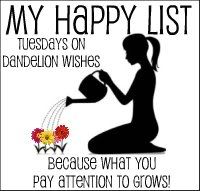 I'M HAPPY that we got to celebrate Halloween before P got too sick. Our church had a party on Saturday. Luckily, he didn't get sick until later that evening.
I'M HAPPY that I finally got J to dress up with me. He isn't one to draw attention to himself.
I'M HAPPY that he helped me make these costumes. It took a lot longer than I anticipated but it was fun to spend the time together!
I'M HAPPY that I got to rock my fauxhawk! I only rock it once a year so I was excited for Halloween to come! :-)
I'M HAPPY that J was a good sport and dressed up too! Aint he cute?!
I'M HAPPY that Mr. P found the "perfect" costume. He was so stinkin' excited to be Mario. :-) Unfortunately, he was way too sick to go trick-or-treating on the actual Halloween day. We called the grandparents and told them to save some candy. We're going to go trick-or-treat when he is feeling better.
I'M HAPPY for modern medicine and doctors. It certainly helps ease a worried mom and dad's mind.
I'M HAPPY to have such a cute little officer in our midst. He was very selective of when he would wear his hat and when he wouldn't. I'm glad we managed to get a pic! :-)
I'M HAPPY for wonderful friends who help me out. I managed to get P into a doctor appointment and didn't want to drag E along too. My wonderful friend took E and watched him with only a 1/2 hour notice. She truly is a rock star.
I'M HAPPY for the sunshine. It may be frigid temps right now but I'm grateful for the pretty sunshine!
WHAT IS MAKING YOU HAPPY TODAY? CLICK ON THE BUTTON ABOVE AND LINK UP WITH MAMARAZZI. TELL HER I SENT YA!