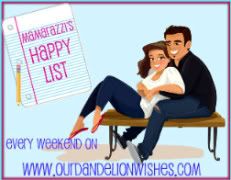 I'M HAPPY that even though I had to work all day today, it was at least outside! I got to work in Lawn and Garden and it was G.O.R.G.E.O.U.S. today! It is amazing what some sun and warmth can do for the soul.
I'M HAPPY that we got to go to our annual daycare picnic. Our awesome daycare provider put on a great little party.
I'M HAPPY to have such a wonderful daycare provider. She is the best! The other day, Little E was kind of sad as I dropped him off. She picked him up and was hugging him to give him comfort. While I was signing the boys in, I heard her kiss him on the cheek and say, "I love you." It melted my heart and continues to melt my heart! I know my boys are loved and well cared for! :-)
I'M HAPPY that I was able to get a nap today! After work and the picnic, I was tuckered out. J took the boys outside to play and let me nap. Thanks sweetie! I really needed it.
I'M HAPPY that I upgraded to the unlimited data package on my cell phone. I check my email frequently and surf Facebook quite often. It has been nice to not worry about going over 25MB.
I'M HAPPY that I get to go to my in-laws house tomorrow to celebrate my birthday. My mother-in-law will be out of town on the big day, June 1st, and she wanted to celebrate early. I love my family!
I hope you all have a wonderful weekend! Take care!