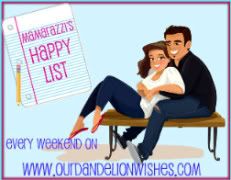 I am one HAPPY WOMAN today! I had the most wonderful opportunity to be able to attend
Time Out for Women
this weekend! I didn't have a ticket and wasn't planning on going. A sweet lady in my ward, who is my good friend's mother, had an extra ticket and gave it to me. So I attended with her. It was A.M.A.Z.I.N.G.! Now, I've attended one other time before, but I had forgotten just how good it can be.
It is basically a chance for women to take a "time out" and have some time to mingle with friends and listen to amazing speakers. They also have some awesome musical talent come and perform. It was such an awesome weekend! One of my favorite presenters was
Jenny Oaks Baker
. She is an amazing violinist! Check out
THIS
video when you get a chance. She's awesome!
I'm HAPPY that our back yard is almost done! I'll post pictures when it is!
I'm HAPPY that it was a warm, beautiful day today! It really is amazing what sun and warmth can do for you!
I'm HAPPY that my cousin and aunt are coming down from Alaska to visit in a week! I love those ladies and can't wait to give them a humongous hug!