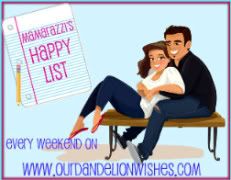 I'M HAPPY that I am feeling better. I got knocked on my butt with a flu bug on Thursday. I went to be Wednesday night feeling just fine. I woke up and OH BOY it wasn't pretty.
I'M HAPPY for an awesome sister-in-law who took my kids for the day so that I could puke and ... well .... you know ... by myself. Nothing like having an almost 2-year-old stand in the bathroom watching ya puke. :-/ Thank you, L!!
I'M HAPPY for an amazing mother who drove the kiddos to my sister-in-law's house! Not only did she take the kids but she washed my van and vacuumed it out too! She is always taking care of me like that and I really do appreciate it!
I'M HAPPY for a great hubby for going to pick up the kids by himself so that I could continue to recover.
I'M HAPPY for a wonderful friend and neighbor who ran to the store and got me Sprite and Tums! :-)
I AM ONE BLESSED WOMAN TO HAVE SUCH WONDERFUL PEOPLE AROUND ME!!
I'M HAPPY that my children were able to have fun this weekend. My sister-in-law lives in the
boonies
country and the kids got to run wild. P was quite nervous when she let the chickens out. He finally realized they weren't going to attack him and went on with playing. My boys and her kiddos got so dirty that all had to have baths and change clothes. Now THAT is what I remember about summer as a kid. Having a blast, getting dirty, running around, and being care free!
I'M HAPPY to be making some new bloggy friends! Thanks for your wonderful comments! I am so HAPPY when I get some COMMENT LOVE! :-)
What are you happy about? Click on the link above and join in the HAPPINESS!